Dear Hawk Ridge Friends,

It always amazes me how fast the fall season at Hawk Ridge goes. This weekend is our last weekend of public programs & migration interpretation at the Hawk Ridge Nature Reserve main overlook. We hope you stop by to join staff & volunteers in celebrating another great season and bid the birds farewell on their journeys south!

EVENING OWL PROGRAMS
Northern Saw-whet Owl (M Durbin)
We still have ticke

ts available for our last 2 Evening Owl Programs taking place tonight (Friday 10/24) at 8pm and tomorrow night (Saturday 10/25) at 8pm. We hope to have some live owls join us for this exciting educational program! You can reserve your tickets by calling 218-428-6209 or purchase in person at the Hawk Ridge merchandise trailer (9am-4pm). More info can be found online: http://www.hawkridge.org/education-programs/for-visitors/

WEEKEND PUBLIC PROGRAMS AT HAWK RIDGE

LOCATION: Outdoor classroom at Hawk Ridge Nature Reserve, East Skyline Parkway, Duluth
Eyes on the Skies - Beginning Hawkwatching
COST: FREE, donations appreciated!
DURATION
: appro
x. 1 hour
DESCRIPTION: Learn the basics of identifying raptors as they ar
e m
igrating
overhead at Hawk Ridge Nature Reserve. Bin
ocular
s are provided.
DATES/TIMES: Sat. Oct. 25th 11am; Sun. Oct. 26th 1pm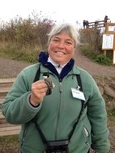 Songbird Banding

COST: FREE, donations appreciated!
DURATION: approx. 1 hour
DESCRIPTION: Find out how birds are banded and learn the importan
ce of banding
research.
DATES/TIMES: Sun. 10/26 at 11am
Here are a few of our fall fundraisers & special events happening this weekend!
Fall Raptors Raffle
Buy a raffle ticket today for your chance to win a great prize! The annual raptors raffle helps support the bird education and research programs of Hawk Ridge Bird Observatory. Prizes are: Eagle Optics 10x32 Ranger Binoculars, Duluth Pack Utility Pack (Navy), and Hawk Ridge Storm Creek Softshell Jacket (size L).
http://www.hawkridge.org/event/fall-raptors-raptor-drawing/?instance_id=88
You pick which prize you'd like to enter your raffle ticket for drawing. Tickets are $5 and can be purchased in person at the Hawk Ridge Nature Reserve. Drawing will be held Sunday October 26th at the Hawk Ridge Nature Reserve Main Overlook at 1pm. No need to be present to win, but must be 18 or older to purchase tickets. Thanks to Eagle Optics, Duluth Pack, & On the Limit for donating prizes!
Hawk Ridge Membership Drive
Begin or renew your membership TODAY through October 31st in person at Hawk Ridge Nature Reserve and receive this Hawk Ridge hat featuring Broad-winged Hawks kettling over Lake Superior! (as shown in the picture, while supplies last)
Eat Brunch at Zeitgeist Arts Cafe & help support Hawk Ridge!
During the month of October, 5% of brunch proceeds from the Zeitgeist Arts Cafe will be donated to Hawk Ridge Bird Observatory. Brunch is on Sat. & Sun. from 10am-3pm. To enjoy great food and help support Hawk Ridge go to brunch at Zeitgeist Arts Café located at 222 E Superior St, Duluth, MN. Note: Zeigeist Arts validates 3 hours of parking at the Medical Arts ramp, located on First Street & 3rd Ave E (behind Sheraton hotel) in downtown Duluth. Bring your ticket with you to Cafe! http://www.zeitgeistarts.com/hawk-ridge-is-the-october-brunch-partner/
Vote for Hawk Ridge as Top Birdwatching spot!
Hawk Ridge Nature Reserve was nominated as one of the top 20 places in the U.S.A. for birdwatching by a panel of experts and chosen by USA TODAY Readers and 10Best! One vote per day through November 10th online at: http://www.10best.com/awards/travel/best-birdwatching/hawk-ridge-minn/
Visit us at Hawk Ridge NOW through October 31st!
One more week to go until our staff & volunteers wrap up the public hawkwatching & migration interpretation at Hawk Ridge Nature Reserve! The daily count report can be found at: http://www.hawkcount.org/month_summary.php?rsite=288. Naturalist staff and volunteers are at the Hawk Ridge Main Overlook daily from 9am-4pm through October 31st. For information on visiting us, please go to: http://www.hawkridge.org/visit/visit.html.
Keep up with Hawk Ridge happenings
with instant news!
Join us on Facebook to follow the action at http://www.facebook.com/HawkRidgeDuluth. You can also find us on Twitter and our Blog during the fall season. Twitter at: http://www.twitter.com/Hawk_Ridge and our blog at: http://www.hawkridgeblog.blogspot.com/
Use GoodSearch or AmazonSmile and raise $$ for Hawk Ridge!
A simple way to raise money for Hawk Ridge is by using GoodSearch for your internet search engine: http://www.goodsearch.com/nonprofit/hawk-ridge-bird-observatory.aspx and for your online shopping, in which Hawk Ridge receives proceeds. Another way is via AmazonSmile (smile.amazon.com) select "Hawk Ridge Bird Observatory" and for eligible purchases made, AmazonSmile Foundation will donate 0.5% of the purchase price to Hawk Ridge!
Thanks again for your support! I hope to see you at the Ridge this weekend or before our season ends on October 31!
Sincerely,
Janelle Long
Executive Director
Hawk Ridge Bird Observatory