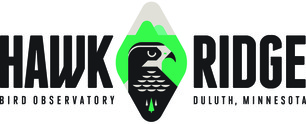 Dear Hawk Ridge Friends,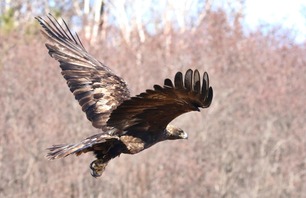 This fall was filled with highlights of beautiful birds, wonderful visitors, smiling students, helpful volunteers, and fantastic staff. One of our amazing November highlights was this beautiful Golden Eagle that was banded by our trainees, Maggie & Emma! We are still counting and banding through the end of the month. Over 300,000 birds have been counted, including 72,000 raptors of 17 species! You can find our October count and banding, and summary reports below. Tomorrow (Thurs. Nov. 18th) is a special giving day here in MN for nonprofits with Give to the Max Day! We would sure appreciate your extra support, as any donation $5 or more is eligible to turn into a super-sized gift of $500, $1000, or even $10,000! You can contribute by clicking HERE https://www.givemn.org/organization/Hawkridge! Thanks for your support!
Give to the Max for Hawk Ridge!
Thursday, November 18th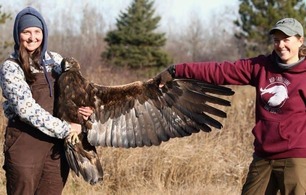 Help us stay lucky and Golden this month with a chance to win the $10,000 Golden Ticket tomorrow on Give to the Max Day! Each year, generous supporters like you celebrate Give to the Max Day by making your online donation. Your generosity on this day makes a difference far beyond the 24-hour giving event. Please consider making a donation on Thursday, November 18, 2021. Drawings will be held every 15 minutes during Give to the Max to grow your gift!
Your gift of $5 or more could instantly turn into an extra $500, $1,000 or even $10,000 for us with the Golden Ticket! The more gifts we generate during Give to the Max Day, the more our chances increase to receive those additional prizes. Our goal is to raise $6000 and you can help us reach it! You can easily make your gift online by visiting GiveMN.org and searching for "Hawk Ridge Bird Observatory" or by simply clicking HERE to Give to the Max in support of Hawk Ridge! We truly appreciate your support on this special giving day!
October 2021 Bird Migration Count & Banding Summaries
October Raptor Count Summary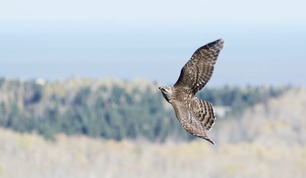 The month of October on Hawk Ridge begins with the remnants of earlier season migrants (Osprey, Turkey Vultures, American Kestrel) still passing through in numbers as they continue to clear out from northern latitudes while the end of the month features heavier movement of several larger raptor species. The once golden aspens have been stripped clean by the frosty autumn winds and daily temperatures slowly drift lower with each passing sunset. This month often accounts for the bulk of the season total for several raptor species including Rough-legged Hawk, Red-Tailed Hawk, Golden Eagle, and Northern Goshawk. A total of 266.83 count hours over 31 consecutive days of counts were logged throughout the month. A total of 10,736 migrant raptors of 15 species were tallied from the observation platform between 1 and 31 October.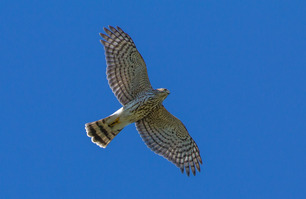 October 1st – 9th: The first week of the month brought several days of dense fog, often in the earlier hours of the count, which would sit along the ridge and lake shore while obscuring visibility for several hours before finally clearing. Despite these poorer conditions, several good raptor flights produced once skies cleared, including SHARP-SHINNED HAWK (334 bird/day 9-day average) with one of the largest monthly flights for this species on 7 October (945). Several later BROAD-WINGED HAWKS (5) passed along the ridge during this same week, falling somewhat behind those 42,000+ that had already migrated through by last month on their way to South America. The bulk of the monthly totals for both AMERICAN KESTREL (52, 59%) and OSPREY (22, 63%) were documented in this first week alone.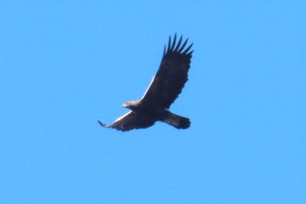 October 10th – 16th: The following week of the month brought the arrival of the season's first ROUGH-LEGGED HAWKS (7) as early as 10 October with birds being seen from the ridge five of the seven days. Additionally, the first GOLDEN EAGLES (4) of the season were spotted heading south on 16 October. Historically, more Goldens seem to be tallied during the first half of this month; however, consistent poor weather conditions during that same time window likely contributed to some of the low numbers observed this year. SHARP-SHINNED HAWKS continued to move in triple-digit numbers this week (213 bird/day 7-day average).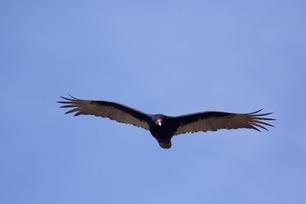 Early October temperatures averaged in the upper 60°s to 70°s but an abrupt shift to cooler weather (47°F) on 15 through 16 October coupled with strong WNW winds brought the two highest daily counts for TURKEY VULTURES (175, 210 respectively) which accounted for nearly half (48%) of the monthly total for this species. Also, by 16 October, the final OSPREY of the season was spotted heading south to warmer latitudes, the final double-digit MERLIN (12) and NORTHERN HARRIER (13) daily counts for the month were tallied, the highest BALD EAGLE (237) daily count on the season and second highest RED-TAILED HAWK (706) count on the month as well, with a strong push of SHARP-SHINNED HAWK (566) on the same date. A great day of fall hawk watching from the ridge!
October 17th – 23rd: The third week of October began with more strong WNW wind which ushered in the season's highest RED-TAILED HAWK (714) and the final triple-digit SHARP-SHINNED HAWK (205) daily counts for the season. The final remnants of TURKEY VULTURE (169) moved south on 17 October as well, with only a small number (30) throughout the remainder of the month. The final triple-digit SHARP-SHINNED HAWK (205) daily count for the month came on this same date. The final three late BROAD-WINGED HAWKS of the month passed along the ridge on both 16 and 17 October as well. The remainder of this week also saw consistent RED-TAILED HAWK movement (229 bird/day 7-day average) and the highest daily count for NORTHERN GOSHAWK (7) on the month courtesy of several days characterized by strong northerly winds. The final AMERICAN KESTREL on the season likely passed along the ridge on 19 October and highest daily count for ROUGH-LEGGED HAWK (64) on 23 October. These mid-month days provided some of the biggest raptor movements for October with those ideal wind conditions.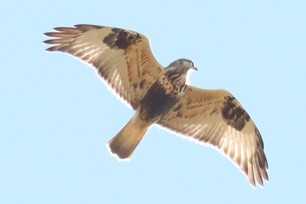 October 24th – 31st: The final week of the month returned to less-than-favorable weather conditions, bringing east winds off the lake which likely helped move flight lines inland and away from the ridge while nearly every day that followed had winds with a southerly component. These headwinds did not help promote late October movement for most species; however, ROUGH-LEGGED HAWKS continued to move steadily between 29-31 October (31, 21, 31 respectively) while both BALD EAGLES and RED-TAILED HAWKS moved consistently in double-digits each day.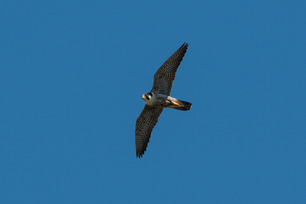 A later migrant PEREGRINE FALCON passed by the ridge on a soggy rainy day (27 October) which could very well be the last one on the season as the last November record for this species dates to 2005. The month of October did not provide the best of weather conditions for autumn raptor migration, and this was reflected in the count. Notably lower current season totals for GOLDEN EAGLE and NORTHERN GOSHAWK are evidence of this effect while October RED-TAILED HAWK numbers appear to be slightly below average compared to recent years. However, the days that did deliver strong NW winds brought about big numbers and fantastic fall hawk watching from the ridge.
In November, we could possibly expect a few more triple-digit Red-tailed Hawk flights before this species begins to taper off, as well as more Rough-legged Hawks, Golden Eagles, and Northern Goshawks from the Arctic and northern boreal forest well into the month.
You can follow along daily with the fall raptor count and summaries HERE!
-Jess Cosentino, Fall Migration Counter
October Non-Raptor Count Summary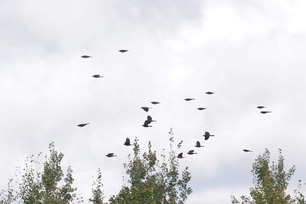 October at Hawk Ridge is an exciting time that sees the departure of all the neo-tropical songbirds which breed throughout the boreal forests of Canada and the forests of northern Minnesota. It also sees the passage of the most sparrows, blackbirds, larks, longspurs, and other interesting migrants which return to their wintering grounds throughout the central to southern reaches of the United States and Mexico. Later in the month, the tundra breeding songbirds and raptors, as well as many waterfowl begin to pour south, bringing a real winter flavor. This October had its share of stand out flights and a few good surprises, along with the expected birds. We ended the month with 109 species tallied, and a season total of 165 species. The following summary will cover our migration count in chronological order with a focus on the morning (or sometimes all day) passerine flights, and notable counts or records of other species.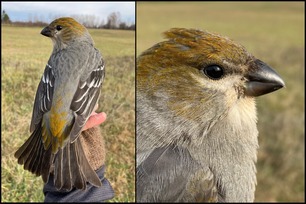 October 1st – 9th: Species total month to date: (75) Species total season to date: (150) The month started off with good diversity, around 50 species a day, including many warblers as well as later season migrants like sparrows and finches. Over the course of the week we added a few good species to the count including an early Pine Grosbeak and a Boreal Chickadee. Although there were a couple days with considerable fog and rain, we still had some impressive flights this week for both raptors and passerines. October 1st brought us 1123 American Robins, 40 American Pipits, and 405 Pine Siskin. The next two days brought somewhat lower numbers, but some interesting species such as Trumpeter Swans, American Golden Plovers, and a late Semipalmated Plover. Our biggest flight was on the 4th, with a constant stream of birds coming in high out of the clouds over the lake. It was our first big flight of Rusty Blackbirds (879) and our biggest recorded flight of Yellow-rumped Warblers for the season (1993), also over 2,000 American Robins.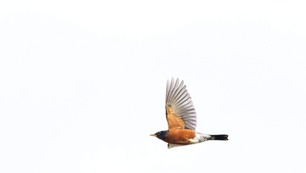 October 10th – 16th: Species total month to date: (91) Species total season to date: (155) This week kicked in strong on the 11th, with our best Purple Finch flight of the season (2,013), 1256 American Robins, 341 Pine Siskin, 2 late Tree Swallows, a Barn Swallow, and one very late Chimney Swift! However, the 12th was an even bigger event, with our biggest Rusty Blackbird Flight of the season (8,628), although the concurrent count of over 15,000 from Stoney Point is possibly the highest count in Minnesota history! Also on that day, we saw our best flights of American Robin (4,143) and Common Grackle (2,768)! Good numbers of Purple Finch (1,636) and Ring-necked Duck (243) further marked the occasion. The next day on the 13th, good counts of American Robin (1,781) and Rusty Blackbird (1,210) continued, but the highlight was a Townsend's Solitaire! We also saw our first big movement of American Crows (452) primarily in big flocks down the lake shore. Our first flock of Snow Bunting also appeared! Good flights continued through the week, ending with the weekend of the 16th and 17th which were most notably our biggest and best Red-tailed Hawk flights!
October 17th – 23rd: Species total month to date: (104) Species total season to date: (163) The 17th was the second of our two big Red-tailed Hawk flights on Northwest winds, which also brought plenty of other great migrants, including 230 Sandhill Cranes, a big late flock of 101 American White Pelicans, 608 American Crows, 121 Common Ravens, 504 Purple Finch, 646 Rusty Blackbirds, and 43 White-winged Crossbills! The next few days continued to bring some interesting birds, such as Snow Geese, and a smattering of waterfowl (Blue and Green-winged Teal, Ring-necked Ducks, Common and Red-breasted Merganser, Common Goldeneye, Bufflehead, and Trumpeter Swans). Waterfowl migration starts to pick up strongly this time of year, although the ridge is not often the best place to observe this with very distant and poorly lit birds. Some other highlights include our biggest flight of American Crows (3,118) on the 20th, and not one but two Short-eared Owls seen from the ridge on the 21st! Also quite notable were the arrival of our first American Tree Sparrows, Bohemian Waxwings, and Northern Shrikes, along with the first real flocks of Pine Grosbeak and Common Redpoll for the season! These species are true winter birds, and really show the shift in the seasons.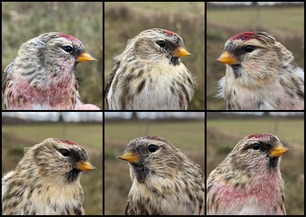 October 24th – 31st: Species total month to date: (109) Species total season to date: (165) The final week of October quickly saw the transition to typical November birds, with less diversity, but lots of fan favorites such as Pine Grosbeaks, Common Redpolls, White-winged Crossbills, Northern Shrikes, Evening Grosbeaks, and Snow Buntings, to compliment our Golden Eagles and Rough-legged Hawks. Also of note was a very late record of Blackpoll Warbler on the 27th, seen on the ground below our Hawk Ridge sign during a morning rain shower. Our first notable flight of Common Redpolls (271) was on October 25th, during an odd morning punctuated with rain showers. However this trend continued with high counts for the remainder of the month (299, 461, 1188, 1716, 687, and finally 2,124 on the 31st!) The redpoll flight is continuing strong into November, with a season total of 13,532 as of November 4th! Although the numbers are even higher at places such as Stoney Point with over 5 or 7 thousand in a day, the ridge is still seeing a huge flight of these birds down the ridge and often right past the overlook or platform. Our final day of the main migration season here at the ridge was quite a good one with that redpoll flight, and included a couple nice surprises like a Black-backed Woodpecker and a group of Red-throated Loons.
As a whole, the month was not exactly what we expected, with a fair amount of poor weather days due to east winds, fog, and rain. However, it brought some fantastic flights and highlights that we will remember for a long time. Follow along with us live on Dunkadoo or at the Ridge in November! You can follow the count live HERE!
-Julian Grudens, Fall Migration Counter
October Raptor Banding Summary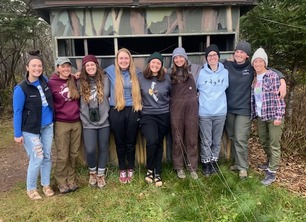 October provided less than ideal weather conditions for our banding team, but we sure do have a great crew of banders! Two weather variables in particular are likely to blame for our low numbers this month: persistent east winds and record high October temperatures. East winds are especially poor conditions for migration at Hawk Ridge as they tend to disperse birds inland rather than concentrating them along Lake Superior. Meanwhile, this October's unusually warm weather meant many birds, especially short-distance migrants, likely had little motivation to head south in the first place.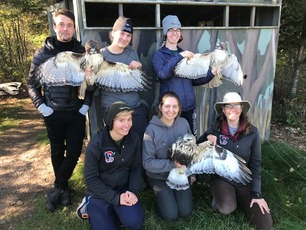 During the first two weeks of the month, rain and fog also took their toll, particularly on our Sharp-shinned Hawk numbers, with 90 banded this month. Under these unfortunate conditions, 156 raptors were banded across 57 cumulative banding days at our three stations in October, a record low for our past 50 years of banding. The banding of four Rough-legged Hawks was an especially notable highlight this month, with typical years of banding at the ridge resulting in one or none for the entire season. Three light morphs were banded at the main station and one gorgeous dark morph at Moose Valley. Of these four birds, three were juvenile birds and one of the light morphs was an adult female.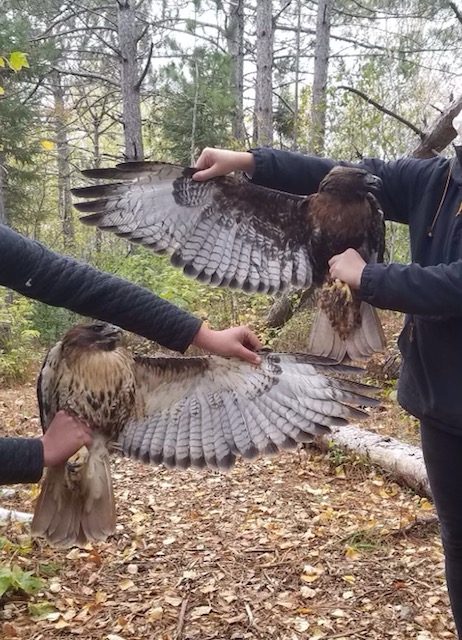 We band adult Rough-legged Hawks much less frequently than juveniles, making trapping an adult a special event! Even last year's exceptional year for Rough-legged Hawks did not include an adult. Our two best banding days for large raptors in October were the 16th and 17th. These dates align with the season's two highest count days, which included over 700 Red-tailed Hawks each and represented two of the mere eight days this month to feature westerly winds. The 16th and 17th included a total of 42 birds banded across our three stations, 18 of which were Red-tailed Hawks. We are hopeful that raptors will continue to steadily trickle through this November, with a handful of birds perhaps soon to come when temperatures finally drop.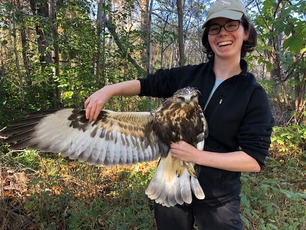 October Raptor Banding Totals
Northern Harrier: 5
Sharp-shinned Hawk: 90
Cooper's Hawk:1
Northern Goshawk: 14
Red-tailed Hawk: 30
Rough-legged Hawk: 4
Merlin: 9
Peregrine Falcon: 3 Northern Saw-whet Owl: 329 (+9 recaps)
Long-eared Owl: 9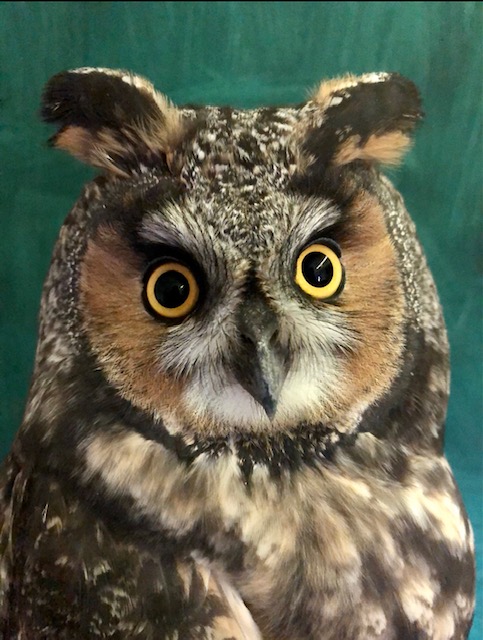 Barred Owl: 5
Great-Horned Owl: 1
OCTOBER TOTAL: 500
We'll include the full Owl Banding Summary in the next report, but primarily numbers were also down due to poor weather.
-Frank Nicoletti, Banding Director
Passerine Banding Summary
This year we thankfully have been able to do more teaching and learning at our passerine banding station with COVID-19 vaccines in place. We have had a chance to work with a great group of young trainees and naturalists who bring experiences and insights from all over the country.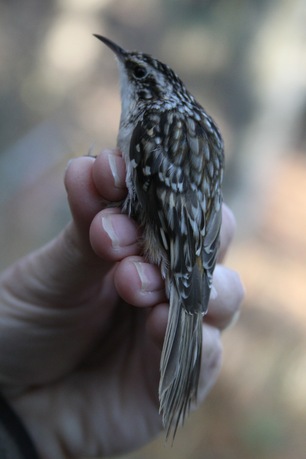 We started the Fall passerine banding season a few days after our summer MAPS project concluded. Our first day of banding was August 9th, when we caught 32 birds including a raucous 5 Rose-Breasted Grosbeaks. So far, our busiest day was August 10th when we had 65 birds, but we had several mornings over 50 birds banded. Unusual records include multiple Ruby-Crowned Kinglets in early September (which is early), and seven Brown Creepers by mid-September (which is very early).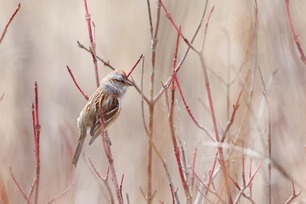 Formal passerine banding ended on October 15th, with a few birds caught in the raptor nets after that time. As of October 30th, we banded 880 birds of 61 species which is lower numbers than typical, but about the usual number of species. The sparrow numbers overall at the overlook and at the banding station seem very low compared to averages. Late season arrivals included our only two American Tree Sparrows on October 24th, and our only White-Breasted Nuthatch on the 25th both in the raptor nets. Thanks to the interns for banding those!
WAYS OF GIVING
Hawk Ridge Bird Observatory thanks all of our supporters. As a nonprofit organization, we are primarily funded by individual gifts to put our bird migration research and education programs in action. Below are ways you can help us keep sharing the magic of the bird migration!
Support Hawk Ridge by Shopping!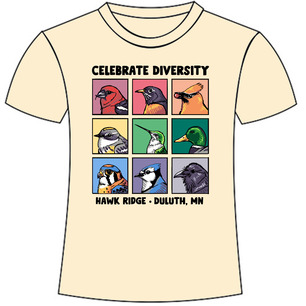 Be sure to stop by our gift shop (merchandise trailer) at Hawk Ridge September 1 – October 31 for a variety of Hawk Ridge and other bird/nature-related merchandise. Our featured artist this year is Emma Regnier, who was one of our Bird Migration Count Trainees in 2020 and has returned as one of our Banding Research Trainees for this fall. She created 2 new beautiful designs for our limited-edition shirts for 2021!
Purchase one of our unique artist-designed Hawk Ridge shirts or tote bags online. If you like to shop on Amazon, you can add Hawk Ridge as your charity you support via Amazon Smile and Hawk Ridge Bird Observatory receives a donation of 0.5% of eligible purchases!.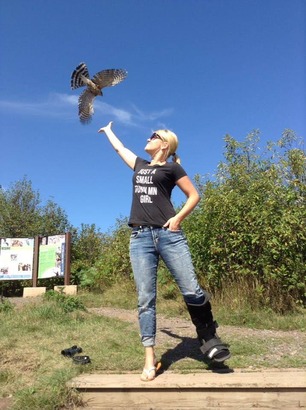 Become A Member Today!
If you're already a member of Hawk Ridge, we sincerely appreciate your support! THANK YOU! If you're not a member and have enjoyed your experience with Hawk Ridge, we invite you to renew or join as a Hawk Ridge member today! Our memberships and donations help drive our bird conservation research and education programs. You can check out our exciting membership benefits and join or renew online HERE!
Books with Portion of Proceeds coming to Hawk Ridge!
Art on the Edge of the Boreal Forest: Alternative Futures for the trees, birds and insects
Original art by ten Minnesota artists
Text by Lee Frelich, Ph.D. and Gerald Niemi, Ph.D.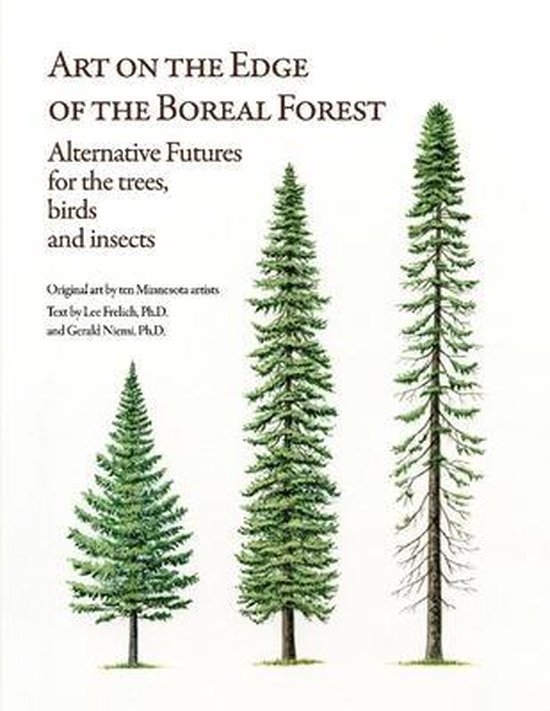 A group of Minnesota botanical artists applied their skills and knowledge to create a visual archival record of Minnesota's threatened boreal forest. Dr. Frelich, director for the Center for Forest Ecology, and Dr. Niemi, Professor Emeritus in the Department of Biology, University of Minnesota Duluth (and former Hawk Ridge Bird Observatory Board Member & Research Chair), as well as Jane Albers, DNR Forest Health Specialist, contributed research on threatened boreal trees, plants, birds, and insects. This collection is important because the ecology of the boreal forest is undergoing slow and silent but significant change due to disturbances caused by fire, invasive insects and stressful climate conditions. Books for sale online from various sellers, including HERE.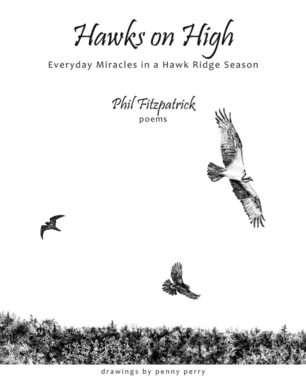 Hawks on High - Everyday Miracles in a Hawk Ridge Season
By Phil Fitzpatrick with drawings by Penny Perry
Phil Fitzpatrick captures the magic of migration at Hawk Ridge and interesting bird bits beyond through his beautiful collection of poetry. Poems are brought to life through the artwork of Penny Perry. Books for sale online and at Hawk Ridge Nature Reserve during the fall season September 1 - October 31.
Simply Donate
You can always simply donate online by clicking HERE or by mailing a check made out to Hawk Ridge Bird Observatory, P.O. Box 3006, Duluth, MN 55803.
Thank you again for your wonderful gift of support! Hope to connect with you again soon!


Sincerely,

Janelle Long
Executive Director
Hawk Ridge Bird Observatory

Hawk Ridge Bird Observatory
P.O. Box 3006
Duluth, MN 55803-3006
Call: 218-428-6209
Contact: mail@hawkridge.org
Visit: www.hawkridge.org
501(c)3 Non-Profit Organization

Federal Tax ID 76-0746366