Dear Friends of Hawk Ridge,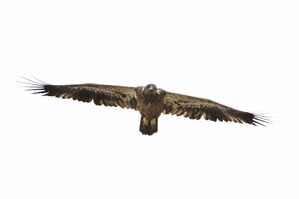 BALD EAGLE were the most common raptor migrant tallied for the month, comprising just over one-third of the total number of migrants at a total of 270. SHARP-SHINNED HAWK, at a total of 182 birds were next-most common, followed by 160 BROAD-WINGED HAWK. These three species were the only to see triple-digit numbers of migrating individuals among raptors, though RED-TAILED HAWK (33), AMERICAN KESTREL (27), and NORTHERN HARRIER (25) have shown well for the month. One SWAINSON'S HAWK on August 28th was another early highlight.
Among other taxa, the biggest surprise has been the incredible number of CLIFF SWALLOW seen migrating past the overlook. A total of 5,172 were counted for the month of August, with 80% of this total seen across two days on the 28th and 29th. COMMON NIGHTHAWK migration is a known Duluth specialty, and on August 30th a total of 6,423 were seen from the watch. Finally, the last two days of the month saw the first small push of migrating warblers, with triple-digit numbers of migrants both mornings.
Everyone's excited for another great season of some of North America's best migration action here at Hawk Ridge!
Natural History & Birding Train Trip Fri. 9/20
Guided morning field trips Sat 9/21 & Sun. 9/22 (Sun Trips are FULL)
Advanced Hawkwatching Workshops Sat 9/21 (Sat. FULL) & Sun. 9/22
Naturalist programs & hikes at Hawk Ridge Fri. 9/20-Sun. 9/22
Hawks on High Book Signing Sat. 9/21 & Sun. 9/22 12-3pm
Vista Birding & Boat Dinner Cruise Sat. 9/21
HAWK RIDGE BIRD OBSERVATORY ANNUAL MEMBER MEETING on Sat. 9/21 at 7pm (held at UMD Life Sciences Building Room 185)
Evening presentation by John Fitzpatrick Sat. 9/21 at 7:30pm (held at UMD Life Sciences Building Room 185; FREE Members, $10 suggested donation - at door - for Non-members)
Post-Festival "Science and Wonder of Migration" Workshop Sun. 9/22-Mon 9/23
Thanks again for your support and hope to see you at the Ridge!
Non-Profit Organization