Dear Friends of Hawk Ridge,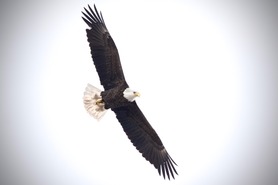 Happy Holidays and thank you for being a supporter of Hawk Ridge Bird Observatory! 2022 was an extra special year for the Hawk Ridge community, as we celebrated the 50th anniversary of Hawk Ridge Nature Reserve. We also celebrated 50 amazing years of continued raptor research and education, as well as wonderful connections with visitors, members, donors, staff, volunteers and beautiful birds! THANKS to your support, we had another successful year! We invite you to read the November reports below, as well as our highlights from 2022. Wishing you all the best in the New Year and we look forward to connecting with you in 2023!
November Research & Education Summaries
November 2022 Raptor Banding Summary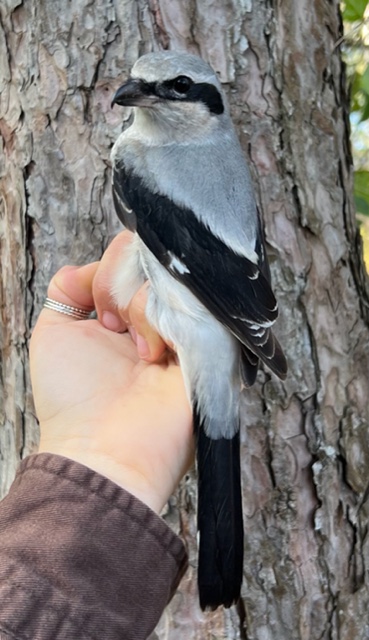 The month of November was low in numbers for banding with only 36 raptors banded plus a Northern Shrike - an honorary raptor. The major cause of the low numbers was warmer temperatures, which likely shut down late season migrants at the end of October into early November. The only significant front was after the 15th when conditions were favorable, but raptors had likely settled into territories.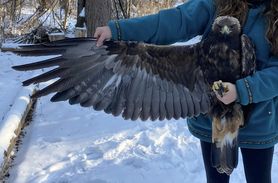 The 30th, last day of the banding season, was extra special as I captured and banded a second-year male Golden Eagle. I had anticipated a good flight of raptors with the forecast of NW winds 20-30mph with higher gust. Temperatures were around 20 degrees with windchill below zero and partly sunny skies. I got to the station at 8:15 to clear the trapping area of the fresh 3" of snow from the previous day and night. A great flight indeed with good numbers of Bald Eagles (41) moving by the station along with 7 Golden and a scattering of a few other non eagles. I was fortunate enough to catch a second year male golden around 2:30 in the afternoon. The last raptor of the 2022 season and certainly the highlight of my season. I was able to share this remarkable bird with several HRBO folks and grad students.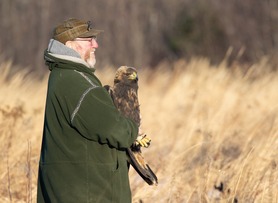 I'm so blessed to be able to work at an incredible place like Hawk Ridge. Thanks for all who support HRBO in so many ways. The end of season results will be shared soon with more highlights and fall details.
November Banded Raptor Totals
Northern Harrier-1
Sharp-shinned Hawk-5
Northern Goshawk-4
Red-tailed Hawk-7
Golden Eagle-1
Northern Saw-whet Owl-7
Long-eared Owl-11
Northern Shrike-1
Frank Nicoletti, Banding Director
November 2022 Bird Migration Count Report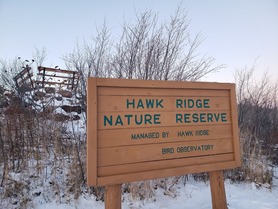 The 51st consecutive fall migration count season at Hawk Ridge wrapped up on 30 November. A total of 161 count hours over 26 non-consecutive days of counts were logged throughout the month. Inclement weather resulted in four days of no count being conducted. A total of 917 migrant raptors of 10 species were tallied from the observation platform between 01 and 30 November. The general trend was slightly lower-than-average November totals for most species.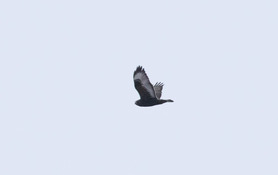 RED- TAILED HAWKS (606) and BALD-EAGLES (966) were among the most abundant raptor species over the month, with both accounting for 85% of the monthly total alone. ROUGH- LEGGED HAWKS, which are often also among one of the most abundant late season raptor migrants, experienced a low November (and overall season) total compared to the ten-year average (2012-2021) of 309 – only approximately 1/3 of that number passed this November.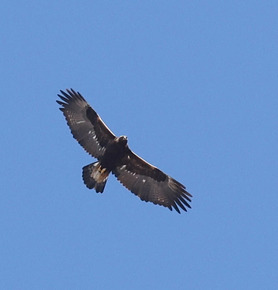 Despite GOLDEN EAGLES having a higher-than-average October total, they also experienced a lower November total compared to the ten-year average (101), with just over half of that amount passing the ridge. NORTHERN GOSHAWKS are also historically among the most abundant raptor species to make passage in November with a ten-year average of 60. However, this year marked the lowest November total since 1989, as only nine migrant birds were documented passing the ridge. A late migrating BROAD-WINGED HAWK mixed in with kettles of Red- tailed Hawks on 7 November as the groups of buteos pushed their way down the distant lakeshore – the last of this species being seen from the ridge on 14 October.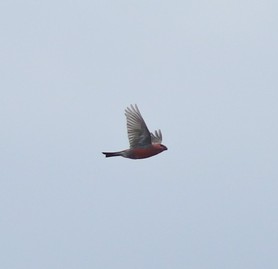 The non-raptor flight in November is typically comprised of later migrating waterbirds coupled with the arrival of winter finches and their allies (depending on the year). CANADA GEESE (1,108) were the most abundant non-raptor species moving throughout the month, followed by AMERICAN CROWS (372) beginning to migrate south out of the northern forests and AMERICAN ROBIN (324) wrapping up their migrations south. PINE GROSBEAK (223) was also among the most abundant winter passerine making movements south, with a peak day of 69 on 17 November.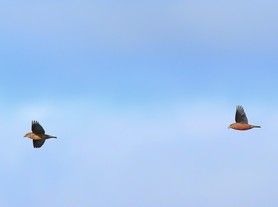 PINE SISKIN (215), AMERICAN GOLDFINCH (204), and COMMON REDPOLL (171) numbers were the next most abundant; however, not indicative of any large irruptions along the north shore this fall for any species. While experiencing larger irruptive movements very far south throughout much of the continent this fall, EVENING GROSBEAKS (158) only passed the ridge in modest numbers this fall. Both RED (132) and WHITE-WINGED CROSSBILLS (30) were less abundant this fall as well. A total of ten NORTHERN SHRIKES passed during the month, at times piercing the cold wintery silence with their shrill vocalizations while briefly hunting the nearby chickadee feeder flocks. One TOWNSEND'S SOLITAIRE passed through the ridge as well – the second on the season.
Thank you to everybody who came up to the ridge this past fall to enjoy the migration and community. The fall count will resume in 2023 in mid-August.
Jess Cosentino, Fall Count Director
2022 Education Summary
Christmas Bird Count Season is always a fun time of year! Big numbers of Evening Grosbeaks and Bohemian Waxwings turned up in the area counts!! Hooray for winter birds - it's so exciting to see them even in the throws of lots of snow! Like the Christmas Bird Count numbers, 2022 was a busy year for Hawk Ridge Education Programming. It seems every year keeps getting busier, and busier -which is great news when you are educating the world about the wonders of birds and their importance in the world!!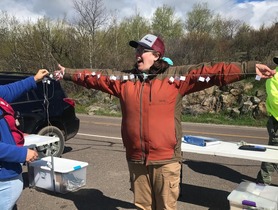 We continue to build spring migration programming and we were happy to welcome Sara DePew as a second educator and count interpreter for the spring season! We formally started spring education programming in 2019 with our reinstated spring count. In 2022, we hosted twice as many different school groups as our first year in 2019! We are definitely growing on the spring programming side of the spectrum! Summer 2022, was also the first year that we had a full-time education director on during the summer months and it was filled with programs. New programs that happened included welcoming Viking Great Lakes cruise passengers to Hawk Ridge for programming- we enjoyed educating people from all over the country and world with 7 cruise visits May through September. We also were able to offer the first Minnesota Master Naturalist Course through Hawk Ridge with a wonderful group of participants. We also had an assortment of bird programs for partnered area day camp programs and a number of outreach presentations as well.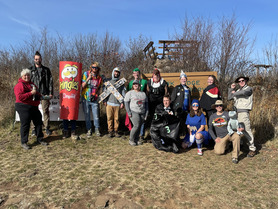 Fall, as always, was a busy season, with school programming getting much closer to what we remember pre-pandemic levels, and we were lucky to have an incredibly talented team of education trainees, interns, and naturalists to provide programming! Huge thank you to: Sara DePew, Jake Behrens, Sarah Wood, Chris Schnurbusch, Daniel Goldberg, Julia Luger, Allie Quick, Caroline Urban, Jamie Tiggs, Jason Heinen, Sophie Richardson, and Drake Hacker! Whew- it takes a small army to keep education programming going through the fall season! And many thanks as well to Lisa Oakland for managing the merchandise and the visitor services front, as well as Valerie Slocum leading our incredible team of volunteers for their efforts that support every aspect of Hawk Ridge programming. We had a lot of fun, as you can see by our last day costume photo on Oct. 31st!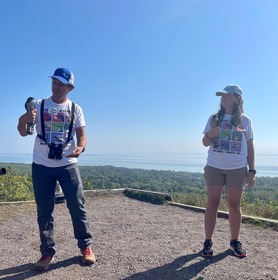 During the fall, we provided more than 150 educational program opportunities for K12 schools, college groups, traveling groups, general public programming, owl programs, Hawk Weekend/50th Anniversary festival programs, virtual programs and workshops. All in all, nearly 3,000 participants took part in educational programming at Hawk Ridge over the fall. We also did more than 200 live bird demonstrations and interacted with thousands of Hawk Ridge visitors! Looking at the whole picture for 2022, we provided more than 220 formal programs for more than 4,200 participants!
To read our FULL 2022 Education Summary, please click HERE. Stay tuned to our website and watch for Facebook posts for more opportunities to enjoy Hawk Ridge Educational Programming in 2023! Lots of interesting programming ahead, including our exciting international birding trip to Costa Rica next spring! Thank you for sharing in the magic of migration with us!
Margie Menzies, Education Director
2022 HAWK RIDGE HIGHLIGHTS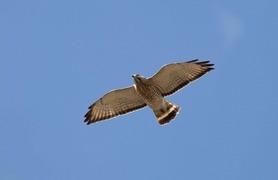 As we look to the new year and the next 50 years, we invite you to reflect on what Hawk Ridge means to you. One of the most memorable parts of our 50th celebration event in September was hearing the inspirational and heartfelt stories from attendees through the decades - memories of a special visit, a meaningful bird release, an exciting big migration day, reuniting or being united with friends and loved ones at Hawk Ridge, or the simple magic and joy of watching birds. We appreciate all that Hawk Ridge brings to people and bird conservation and we can't thank you enough for being part of that.
RESEARCH AND PROGRAMS
BIRD MIGRATION COUNT RESEARCH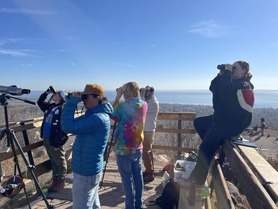 During our 2022 Spring and Fall seasons, our skilled and focused counters documented over 84,000 raptors of 18 different species, as well as 163,000+ other migrating birds of 160+ species. Above 10-yr average numbers were counted this fall for Northern Harrier, Broad-winged Hawk, and American Kestrel. A surprise first record of a Swallow-tailed Kite was recorded! In total, over 3.2 million raptors have been counted at Hawk Ridge since the start in 1972.
BIRD BANDING RESEARCH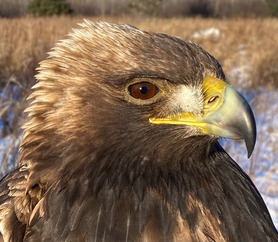 We continue to run the largest raptor banding operation in the country. Our stellar banding team, led by Frank Nicoletti, banded over 2200 raptors (hawks, falcons, eagles, owls) in fall 2022. A few highlights included a Golden Eagle Banded on the last day of the season and the E. Screech Owl returning for the 5th year! Dedicated volunteers continued passerine banding at Hawk Ridge, including the summer MAPS (Monitoring Avian Productivity and Survivorship) research project, with the leadership of David Alexander and Margie Menzies.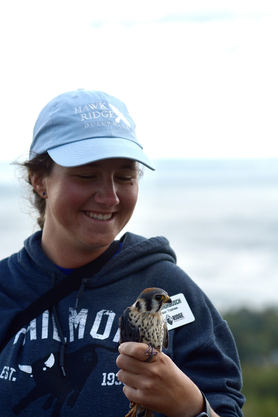 TRAINEESHIP PROGRAM & STUDENT RESEARCH
Seven trainees, five research and two environmental education, received exceptional professional field experience within our count, banding, and education programs. We collaborated with students from University of MN Duluth on graduate research projects and other outdoor education classes.
EDUCATION & COMMUNITY ENGAGEMENT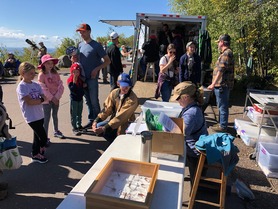 Hawk Ridge Education Director, Margie Menzies, and our amazing education team taught more than 220 educational programs in 2022, reaching over 4200 participants of all ages! Thousands of visitors at Hawk Ridge shared in the magic of migration with us and learned through our live bird education demos, kid's cart activities, school field trips and public programs. We also provided workshops, outreach events, and virtual programs throughout the year. Our volunteer program engaged nearly 70 people that contributed a total of approx. 3,000 hours in 2022. Thank you to all of our staff and volunteers!
HAWK WEEKEND FESTIVAL & 50TH ANNIVERSARY EVENT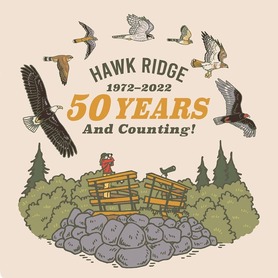 2022 marked the 50th anniversary of Hawk Ridge Nature Reserve and 50 years of continued raptor research & education! We celebrated with a memorable festival weekend September 22nd-25th. Over 200 attended the kick-off banquet at the Greysolon Ballroom in celebration of the past, present, and future with heartfelt stories and speakers through the decades. A poster session was held Friday evening at the Great Lakes Aquarium and presentation Saturday evening at UMD both highlighting 50 years of Hawk Ridge research. Dr. Robert Rosenfield received the Hawk Ridge Lifetime Achievement award for exceptional contributions to raptor research inspired by early years at Hawk Ridge. It was a wonderful weekend!
LAND STEWARDSHIP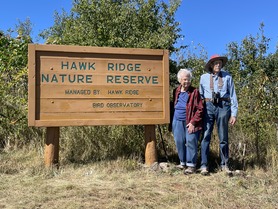 Volunteers helped lead important site stewardship management projects at Hawk Ridge Nature Reserve, such as trail maintenance and invasive species control. An exciting highlight is the acceptance of our Hawk Ridge Nature Reserve Facilities Plan by the City of Duluth for educational and safety improvements for visitors. This project includes a new accessible trail, permanent restroom, additional education program spaces, observation deck, and more! We look forward to continuing progress and sharing more with you in 2023!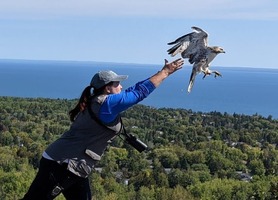 With your generosity and support today, we will soar into the next 50 years! Your investment in our mission will help us continue to protect birds, launch new exciting initiatives and events, and foster those special connections built between the birds, the people, and the place at Hawk Ridge Nature Reserve. This incredible work happening each year is thanks to our amazing staff, volunteers, and the generosity of members and donors, like you. Thank you in advance for your consideration in a year-end gift, which can be made online HERE.
From all of us at Hawk Ridge Bird Observatory, we send our warmest wishes and sincere gratitude for you this holiday season and New Year.
Happy New Year and wishing you all the best in 2023! THANK YOU!
Sincerely,
Janelle Long
Executive Director
Hawk Ridge Bird Observatory