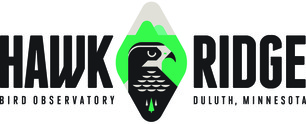 Dear Hawk Ridge Friends,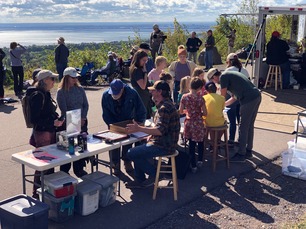 November is here and it's always a nice month to begin to reflect on another great fall bird migration season. Thank you to all the wonderful visitors, members, volunteers, and staff for being part of magic of Hawk Ridge. It's such a special place for so many reasons - we're so grateful for the beautiful birds and connections with you! While our fall bird migration programs and visitor services at Hawk Ridge ended on Oct. 31st, our count and banding research continues through Nov. 30th. You can continue to follow along through the end of month by clicking our live full bird count HERE and raptor count HERE. Over 200,000 birds have been counted, including over 64,500 raptors of 18 species! You can find our October research & education summary reports below. P.S. Thurs. Nov. 17th is a special giving day here in MN for nonprofits with Give to the Max Day! We would sure appreciate your extra support, as any donation $5 or more is eligible to turn into a super-sized gift of $500, $1000, or even $10,000! You can contribute by clicking HERE https://www.givemn.org/organization/Hawkridge! Thanks for your support!
Giving to the Max for Hawk Ridge!
NOW through Thursday, November 17th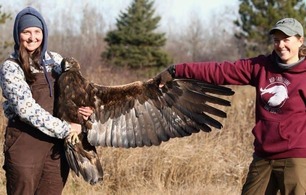 From seeing beautiful Golden Eagles to hopefully winning a Golden Ticket this November - please help us celebrate our 50th anniversary and Give to the Max for Hawk Ridge! Your special donation could turn into an extra $500 Golden Ticket during the early giving period taking place now or even better with a $10,000 Golden Ticket on Give to the Max Day this Thurs. Nov. 17th!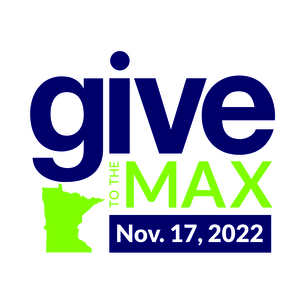 Each year, generous supporters like you celebrate Give to the Max Day by making your online donation. Your generosity on this day makes a difference far beyond the 24-hour giving event. Please consider making a donation on Thursday, November 17, 2022. Drawings will be held every 15 minutes during Give to the Max to grow your gift!
Your gift could instantly turn into an extra $500, $1,000 or even $10,000 for us with the Golden Ticket!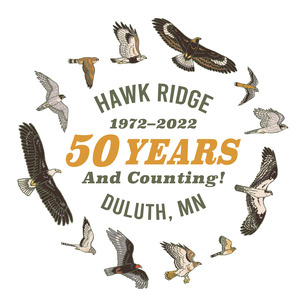 The more gifts we generate during Give to the Max Day, the more our chances increase to receive those additional prizes. Our year-end goal in celebration of our 50th anniversary is $50,000 and you can help us reach it and hopefully exceed it! You can easily make your gift online by visiting GiveMN.org and searching for "Hawk Ridge Bird Observatory" or by simply clicking HERE to Give to the Max in support of Hawk Ridge! We truly appreciate your support on this special giving day! P.S. You can view our special 50th Anniversary Video HERE sharing history and highlights.
October Bird Migration Count Summary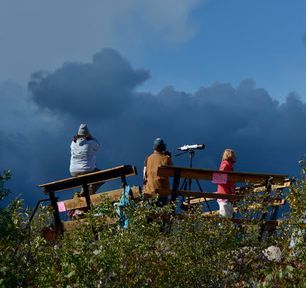 The 51st consecutive fall migration count season at Hawk Ridge continued into October as the shift from late summer into autumn, and eventually early winter, conditions gradually unfold. A total of 286 count hours over 31 consecutive days of counts were logged throughout the month. A total of 11,058 migrant raptors of 15 species and 54 migrant non-raptor species were tallied from the observation platform between 1 and 31 October.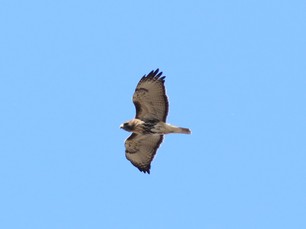 The month began with less favorable weather conditions as the first days saw both strong southern and blustery east winds off the lake, while the final week(s) experienced unseasonably warmer temperatures coupled with more southern-dominant wind patterns. The general trend for raptor counts this month was that most were either slightly, or well, below the 10-year (2012-2021) October averages. Notably, RED-TAILED HAWKS were approximately 41% below that average (5468) while NORTHERN GOSHAWKS were 61% below their monthly average (126). Both species historically experience their peak migration during the month of October on the ridge. It was the second consecutive October with only double-digit Northern Goshawk numbers – a trend not observed for well over a decade prior (since 2010). Red-tailed Hawk numbers peaked between October 17 and 20, with 45% of the monthly total passing the ridge during those four days alone.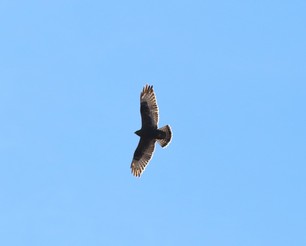 ROUGH-LEGGED HAWK (64) numbers were dramatically lower than the monthly average (393), with only two double-digit count days logged throughout the entire month. Both MERLIN (61) and PEREGRINE FALCON (15) numbers were down this month, with the latter species only being observed half as frequently as the monthly average. BALD EAGLE (1279) numbers on the month were strong; however, still several hundred birds under the monthly average typically observed along the ridge during the month. However, both GOLDEN EAGLES (103) and NORTHERN HARRIERS (220) were well above their respective monthly averages, while AMERICAN KESTRELS (229) were consistent with their ten-average. One of the best Golden Eagle flights came on the second to last day of the month as 20 migrants (21 % of monthly total) were documented.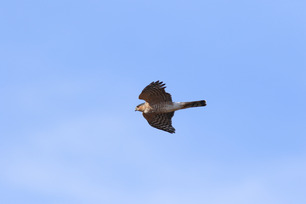 SHARP-SHINNED HAWKS (5067) were also generally consistent with the long-term average (albeit slightly below), with the bulk of those birds passing in the first half of the month. COOPER'S HAWK (35) numbers were only down about 17% relative to their monthly average. Only a handful of BROAD-WINGED HAWKS (19) passed along the ridge throughout October, with the final bird of the month being observed on October 14; however, this is typical as most of this species passes through in September. In general, overall raptor counts were down this month relative to past years and this may be attributed to a combination of less favorable weather and wind patterns persisting throughout significant periods of that time.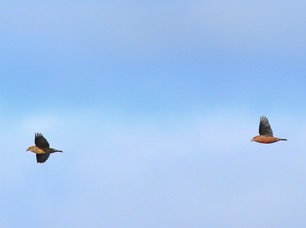 October on the ridge experiences several interesting transitions in migratory non-raptor species as the last of the early migrants have pushed out of the northern forests paired with the arrival of later season species, like the winter finches and their allies. Of note this month included migrant PURPLE FINCHES showing a steady push along the ridge between October 7 and 17, averaging 286 birds/day over nine days (A total of 5062 passing over the month). The winter finch forecasts for this species had projected them to be on the move south in large numbers while exiting the eastern Canadian boreal forests and this push of birds along the ridge aligned with those predictions. EVENING GROSBEAKS have also been experiencing an irruptive fall in North America, arriving at various southern latitudes across the country, while the first few were observed along the ridge on 10/29 and 10/31 in small numbers (2 and 9, respectively). Migrant RED CROSSBILLS began to appear on counts later in the month, with small groups and individuals being documented mostly during the final week.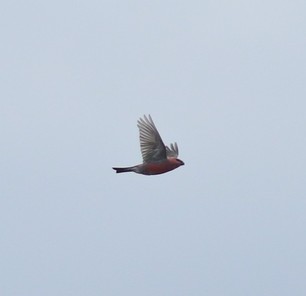 The first COMMON REDPOLL flew over the platform on the final day of the month coupled with the first PINE GROSBEAKS of the fall. On 10/05, a shift to more favorable northwest wind conditions, following days of stale southern and eastern wind patterns, brought a large movement of passerines along both the lakeshore and ridge. On this day, a strong push of BLUE JAYS broke the previous Hawk Ridge season record for this species set in 2021 (59,501). A total of 2562 Blue Jays would pass during the month, bolstering the record just a bit more. AMERICAN ROBINS (12,595) and YELLOW-RUMPED WARBLERS (5201) comprised the remaining bulk of passerine movement on the month.
The last AMERICAN WHITE PELICANS of the month passed along the lakeshore on 10/20. Small groups of both migrant HERRING and RING-BILLED GULLS began appearing as birds leave their boreal forest breeding grounds. A late migrant COMMON NIGHTHAWK passed close along the ridge on 10/11. A mix of migrant waterbirds, including COMMON LOON, COMMON MERGANSER, MALLARD, AMERICAN WIGEON, NORTHERN PINTAIL, GREATER SCAUP, and UNKNOWN AYTHYA SP. were observed flying down the ridge and towards the lake throughout the month.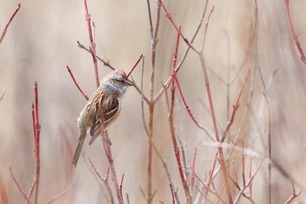 The first TRUMPETER/TUNDRA SWANS passed the ridge as early as 10/06 with smaller groups continuing throughout the month. The first push of migrant DARK-EYED JUNCOS (42) came on 10/05, while the first FOX SPARROW and AMERICAN TREE SPARROW visited the nearby feeders on 10/06 and 10/13, respectively, the first NORTHERN SHRIKE landed in nearby trees on October 17, and first SNOW BUNTING flock passed on October 20. Several BOREAL CHICKADEES (4) were observed on the ridge, as early as 10/07 and continued until the final day of the month, often fluttering only a few feet from the platform and across the road.
Fall migration continues into the month of November at Hawk Ridge. Make sure to follow our full bird migration count in real-time HERE and our raptor count HERE until 11/30 to see what birds we are counting each day as they migrate south.
Jess Cosentino
Fall Count Director
October Raptor Banding Summary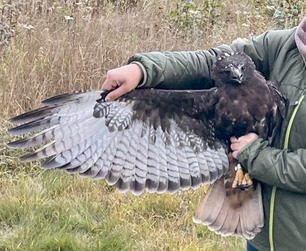 In the month of October, we saw beautiful weather with many days in the 60's and 70's, which is well above normal, with lots of southerly winds. The exception was a cold stretch Oct. 17-23, when we caught the majority of the Red-tailed Hawks and Northern Goshawks. Unfortunately, weather like this does not promote much raptor migration. However, we did manage to band raptors on 74 diurnal station days of running. The three stations were open on many days with help of staff and volunteers.
A total of 308 diurnal raptors were banded with the following: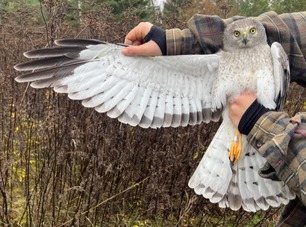 Northern Harrier-8
Sharp-shinned Hawk-219
Cooper's Hawk-7
Northern Goshawk-24
Red-tailed Hawk-38
American Kestrel-2
Merlin-8
Peregrine Falcon-1
Northern Shrike-1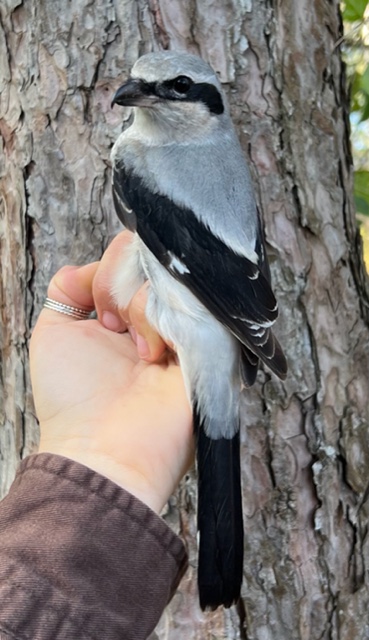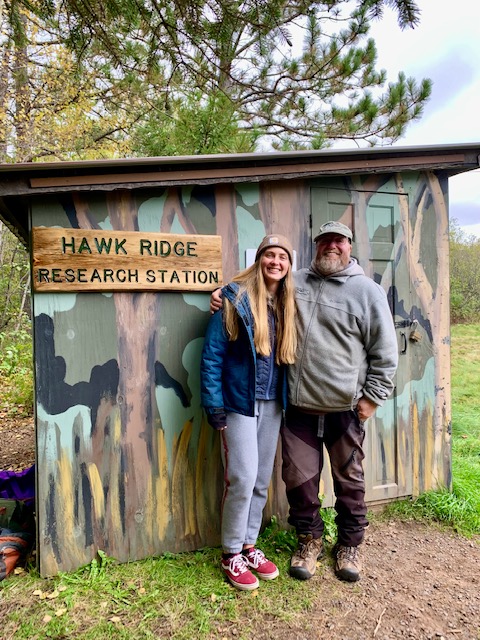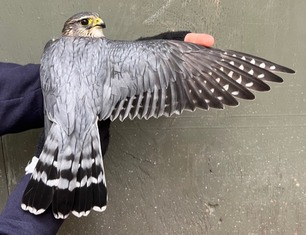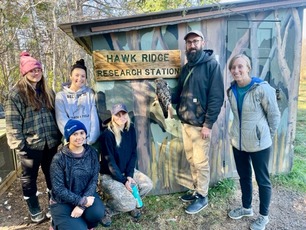 One current banding research initiative we've been working on is putting on transmitters of select species of raptors that we don't have much information on with migratory movements. One of those species is the Red-tailed Hawk. We were able to deploy three units and we still have three more to hopefully deploy in November. Allie Pesano and Bryce Robinson, from Cornell Lab of Ornithology, are currently studying various aspect of Red-tails. We would to thank Bryce and Cellular Tracking Technologies for providing the transmitters.
Frank Nicoletti, Banding Director
Maggie Brown, Bander
Banding Trainees (Kara Beer, Hannah Landwerlen, Jadzia Rodriguez)
Banding Volunteers (David Alexander & Miranda Durbin)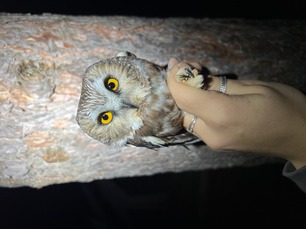 October Owl Banding Summary
October was off to a booming start with a steady average of 50 Saw-whets a night. On October 6th we hit our second 100 owl night of the season with a total of 104 owls. As the month continued, we faced unusually warm weather and high wind days, which led to reduced migration activity and banding days.
Throughout the month numbers of Long-eared owls trickled in. Our biggest night was October 30th, with a total of 13 owls. We wrapped up October with our first Great Horned Owl of the season, which was a gorgeous hatch year female weighing in at 1,484 grams.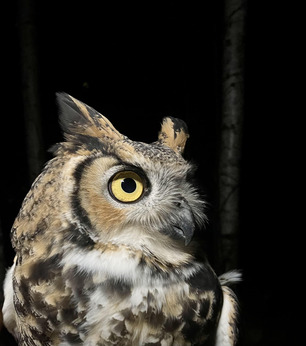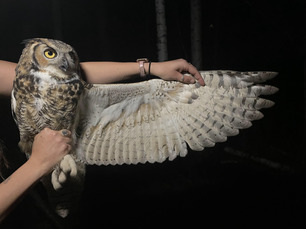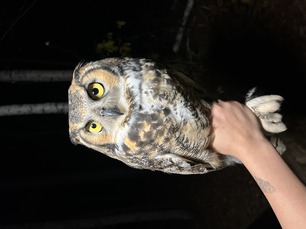 Our totals for October were 638 banded and 44 recap Saw-whets, which included 277 hatch year's and 405 adults. We also had 41 banded and 2 recap Long-eared owls, which included 11 hatch years and 32 adults. Lastly, we had 3 hatch year Barred Owls for the month. This puts us at a season total at 1,012 owls banded, which is about 500 below Hawk Ridge's season average.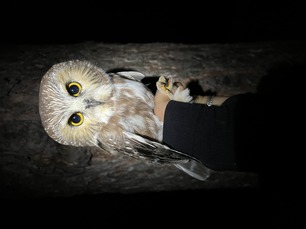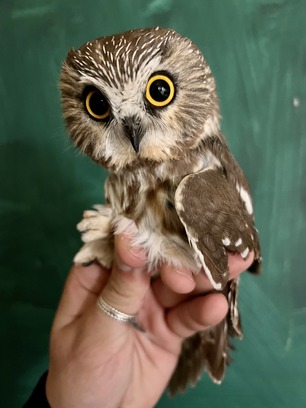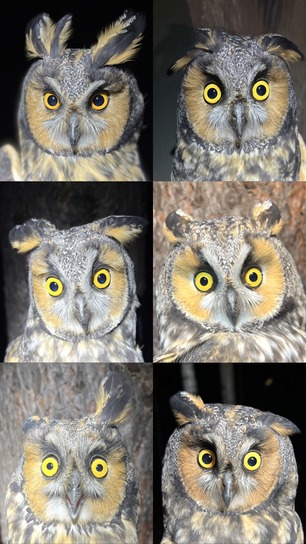 Unfortunately, numbers were lower for all species. A less successful breeding year, higher than average weather days, abnormally warm temps, and more nights than usual with easterly winds are all factors that could have played into these lower numbers. As we close out our fall season in November, we hope cooler temperatures will lead to one last push of Long-eared owls and potentially even a Boreal Owl.
We would like to take a moment to thank all the volunteers, staff, and visitors for making this a great season. We hope to see familiar and new faces again next fall! Thank you!
Lesley Rolls
Fall Owl Bander
October Passerine Banding Summary
Every migration season seems to have similarities and patterns we expect, yet every one seems different as well. No exception for this year. We had a nice productive September, but October was predominantly ruled by winds and not so great banding weather. Despite the weather issues we were able to band 118 birds during 13 days in October- which is better than my mind remembers! Our total for the season was 1057 birds banded in 47 days with 58 species represented.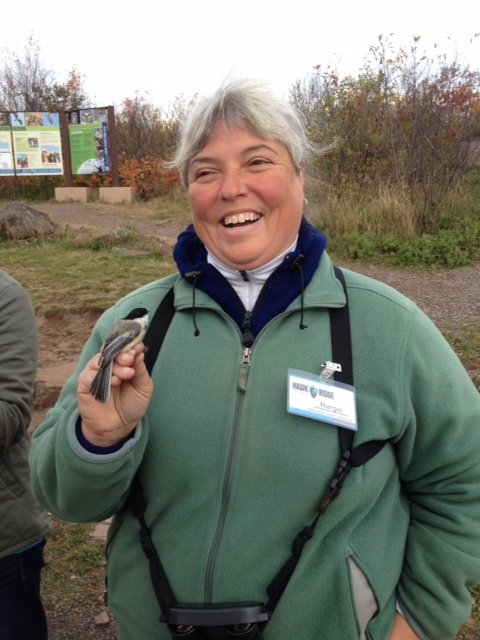 We had 19 individual recaptures during the month of October with the vast majority of them Black-capped Chickadee, and Red-breasted Nuthatches. However, there is more to that story. 4 individual Chickadees birds accounted for 13 recaptures out of 21 Chickadee recaptures in October. In fact one particular bird was recaptured 5 times in the 13 days that we banded, not quite every day, but amazingly often! There were 8 individual Chickadees in the October recaps.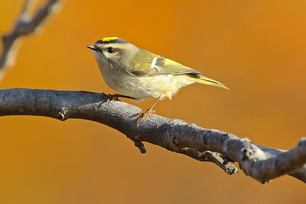 It was an unusual season with some of our typical late season arrivals all in exceptionally small numbers. The late season crowd often begins with Winter Wrens (we banded 4 this year), and Dark-eyed Juncos (only 14 Juncos), then moves on to White-crowned Sparrows (which were absent for us this year) and Fox Sparrows, and finally Tree Sparrows. We also had small numbers of Ruby-crowned (35) and Golden-crowned Kinglets (15) this year. We caught all of these birds but in much smaller numbers than normal. Weather was definitely a dominant player in the small numbers.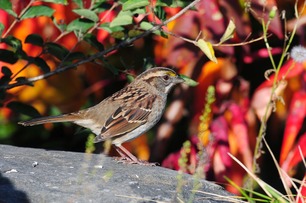 Our top ten species banded for the season saw 274 American Redstarts banded and occupying the number one slot, followed by number 2: Magnolia Warblers- 79, 3: Nashville Warblers- 66, 4: Tennessee Warblers- 57, 5: Swainson's Thrushes- 51, Red-eyed Vireos- 38 and White-throated Sparrows- 38 tied for the 6th position, 7:Chestnut-sided Warblers- 35, 8: Least Flycatchers- 29, 9: Yellow-bellied Flycatchers- 24, and 10: Black-capped Chickadees- 20.
But all of our efforts would be a mere fraction of what you see here if it weren't for our amazing group of volunteer banders, net pickers, data scribes, and Hawk Ridge staff who also volunteer that make it possible for us to do this! Huge thanks to all of you, we couldn't do it without all of you! Rest up over the winter and get ready to do it all over again when summer arrives and breeding bird MAPS banding gets going!!
Margie Menzies & David Alexander
Lead Passerine Banders
October Education Summary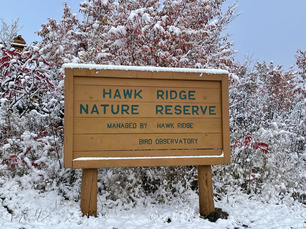 October is always a month of transitions, with this year no exception. It tested our winter readiness for a few days mid-month, and a few hardy visitors were able to see staff entertain themselves with snowball fights! In contrast, the end of October warmed up and felt like early September again for over a week providing all with a wonderful end to the education season. What would October be without great looks at our end of season migrators such as Bald Eagles, Golden Eagles, Red-tailed Hawks and the beginning of the Rough-legged Hawk movement, and even the occasional Goshawk! An unusual highlight for the month- saw no education group program rescheduling due to weather!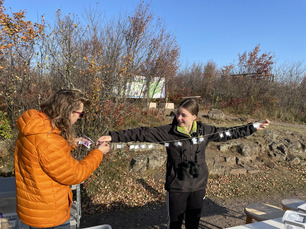 During the month of October, we provided programming for 15 school groups and 5 Higher Education groups and 2 private groups. During the weekends, we offered 30 general public programs and enjoyed providing programming for Duluth Community Day at Hawk Ridge on Oct. 22 with more than 200 visitors stopping by through the course of the day, enjoying the migration, programs and bird demonstrations. And thanks to the efforts of the banders, we provided 57 bird demonstrations for programs and visitors to the overlook through the course of the month.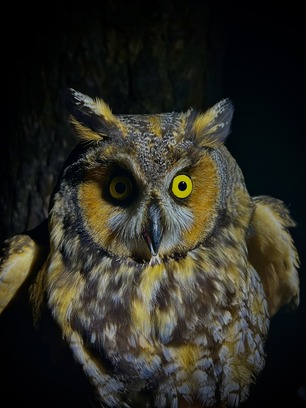 O is for October and for Owls as well! Two general public owl programs brought out evening adventurers to learn about the Owls of Minnesota and experience the Ridge at night. But they were not the only ones WHOOO took advantage of Owl Programming. We also hosted 11 Small Group Owl Programs, with each hoping for the opportunity to learn more about these incredible nocturnal hunters up close and see the owl banding process up close (and they did!)!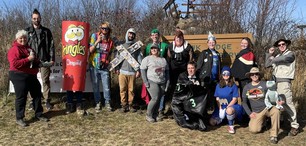 Thanks to our exceptional education staff, and our amazing volunteers! You can see we had a lot of fun this season just by looking at our staff costume photo on Oct. 31st - last day at the overlook!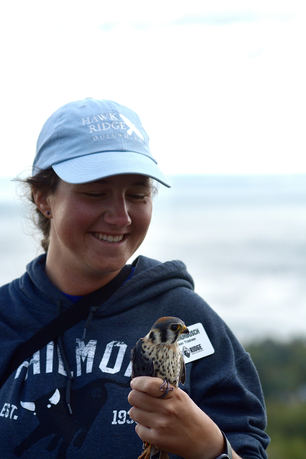 All in all, it was a wonderful season as always, but education at Hawk Ridge never really ends- so keep your eyes open for program opportunities through the winter including an amazing trip to Costa Rica in the end of March (still a couple of spaces- click HERE for details), workshop and field trip opportunities, a winter/spring Master Naturalist class, and likely some online opportunities as well! March 1st with the start of our spring migration count will be here before you know it!
Margie Menzies
Education Director
October Volunteer Highlights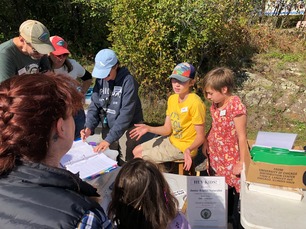 This was another amazing year for our volunteer program! We had 20 new volunteers this year that joined our dedicated group of volunteers. Hawk Ridge volunteers gave over 1400 hours at Hawk Ridge, which is about 300 more hours than last year. Every year we have the privilege of working with volunteers and each year we gain new volunteers that enhance the experience for visitors to Hawk Ridge, as well as volunteers having an amazing experience themselves! While this season may have come to a close, we look forward to seeing our volunteers return next year as well as welcoming new volunteers!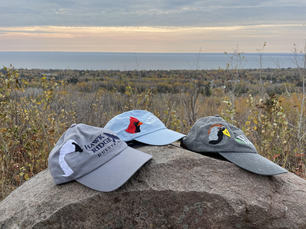 One of our new volunteers this season was Peter Mundale, who visited Hawk Ridge as a kid 10 years ago and is now a college student at Univ. of MN Duluth. He also shared his talent of embroidering favorite birds for Hawk Ridge staff on their hats! Peter shared this below about his experience volunteering with Hawk Ridge.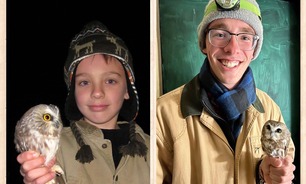 "My experience this season as a Hawk Ridge Volunteer was incredible! I have been fascinated by birds, wildlife, and the outdoors for my entire life. My parents decided to take advantage of this fascination and bring my sister and me to this new place they heard of called Hawk Ridge Bird Observatory. For four years we came up to Hawk Ridge to learn about the migration, and on one of our trips, we went to one of the Evening Owl Programs. At the program, we learned all about Owls, and I got the incredible experience to release a Northern Saw-whet Owl! Ten years later I started my first year at UMD, and now I was the one teaching people about migration as a Volunteer! It was an amazing experience to work alongside so many incredible people and continue to learn more and more! I also got the opportunity to recreate my picture with the Saw-whet as I learned about the research being done with Owls and as I can say now is where my future career will be. I can't wait for next season!"
We're grateful to all the Hawk Ridge volunteers! Thank you!
Val Slocum
Volunteer Coordinator
Fall Raffle at the Ridge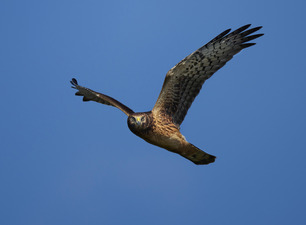 We held our annual fall raffle at Hawk Ridge Nature Reserve this October with drawing on October 31st. Congratulations to the following raffle winners:
1) Vortex Diamondback HD 8x42 Binoculars (winner: Tony Drollinger, Stillwater, MN)
2) Guided Winter Birding Daytrip for 2 with Frank Nicoletti (winner: Gary Way, Minneapolis, MN)
3) $100 Gift Certificate for Merchandise from the Hawk Ridge gift shop (winner: LeeAnne Byers, Grantsburg, WI). Thank you to all that purchased tickets in support of our bird research and education programs at Hawk Ridge Bird Observatory!
Hawk Ridge 50th Anniversary Event & Festival Weekend- THANK YOU!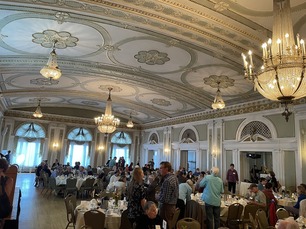 We celebrated the 50th Anniversary of Hawk Ridge Nature Reserve and 50 years of raptor research & education 9/22-9/25/22. Thank you to all those that joined us and helped make it a special event. We kicked off the event with a wonderful celebration of past, present, and future at the beautiful Greysolon Ballroom with over 200 in attendance! On Friday evening, we enjoyed social and research poster session at the Great Lakes Aquarium with 18 posters shared by presenters on bird research in conjunction with Hawk Ridge.
On Saturday evening, Hawk Ridge Bird Observatory held their annual meeting at the University of MN Duluth followed by a speaker panel on 50 years of Hawk Ridge Research. Dr. Robert Rosenfield was also presented with the Hawk Ridge Lifetime Achievement Award. Field trips and workshops were held throughout the weekend at local birding hotspots, as well as Hawk Ridge.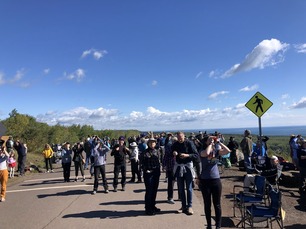 The festival weekend ended on an extra high note on Sunday with great weather, a fantastic bird migration, and Hawk Ridge friends to enjoy it with from near and far! You can also view our 50th anniversary video HERE today and we will continue to share more from the 50th event HERE. A big thank you to all of our sponsors, speakers, staff, field trip/workshop leaders, vendors, volunteers, participants, and supporters!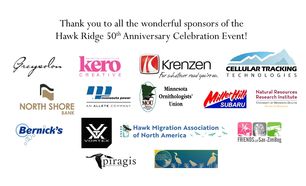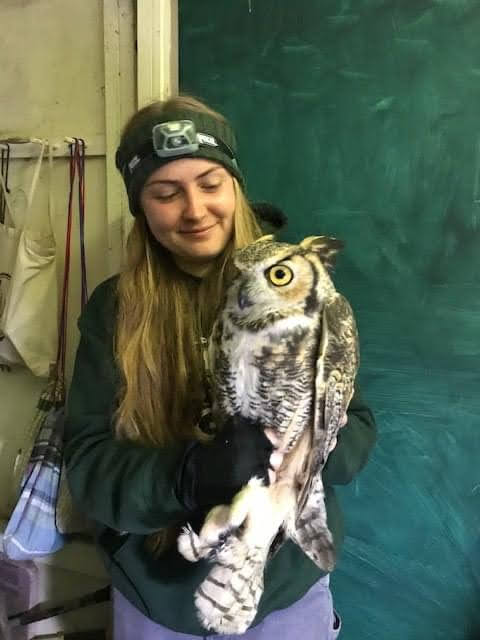 P.S. Calling all Hawk Ridge Alumni - Where are you now?
As we celebrate 50 years, we would love to hear from you! Please send an update to Janelle at jlong@hawkridge.org on what year you were involved & position, photo of you at Hawk Ridge (or current), and what you're doing now!
Thank You for Your Support!
Hawk Ridge Bird Observatory thanks all of our supporters. We appreciate you! As a nonprofit organization, we are primarily funded by individual gifts to put our bird migration research and education programs in action. Below are some of the ways you can help us keep sharing the magic of the bird migration!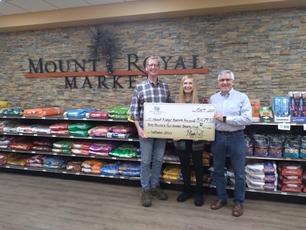 Community Round-Up
Thank you to Mount Royal Foods and Bent Paddle for their community round-up programs for Hawk Ridge Bird Observatory. We appreciate the support and all those that rounded up this fall! Nearly $4500 was raised towards our bird research & education programs!
Support Hawk Ridge by Shopping!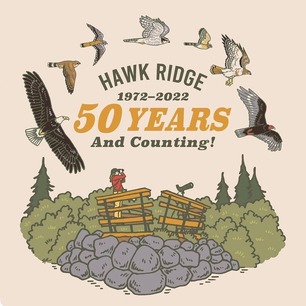 If you missed shopping at our Hawk Ridge Gift Shop trailer this fall, you can still purchase some of our merchandise online HERE. Our featured artist is Emma Regnier, who completed both the Bird Banding & Bird Migration Count Research Traineeships at Hawk Ridge in 2020 & 2021. She created 3 beautiful designs, including the popular "50th Anniversary" design pictured here.
If you like to shop on Amazon, we'd also super appreciate you adding Hawk Ridge as a charity you support via Amazon Smile. Hawk Ridge Bird Observatory receives a donation of 0.5% of eligible purchases!.
Become A Member Today!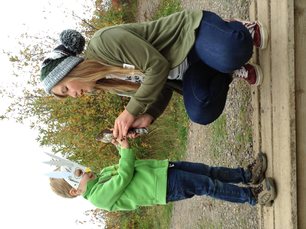 If you're already a member of Hawk Ridge, we sincerely appreciate your support! THANK YOU! If you're not a member and have enjoyed your experience with Hawk Ridge, we invite you to renew or join as a Hawk Ridge member today! Our memberships and donations help drive our bird conservation research and education programs. You can check out our exciting membership benefits and join or renew online HERE!
Simply Donate
You can always simply donate online by clicking HERE or by mailing a check made out to Hawk Ridge Bird Observatory, P.O. Box 3006, Duluth, MN 55803.

Thank you again for your wonderful gift of support! Hope to connect with you soon!


Sincerely,

Janelle Long
Executive Director
Hawk Ridge Bird Observatory

Hawk Ridge Bird Observatory
P.O. Box 3006
Duluth, MN 55803-3006
Call: 218-428-6209
Contact: mail@hawkridge.org
Visit: www.hawkridge.org
501(c)3 Non-Profit Organization

Federal Tax ID 76-0746366